I have two main passions – visual arts and dancing. I've been meddling with both since a child and today these two have become my work and my hobbies.
I love both and so it sometimes feels that both are suffering also, because I have not attached myself completely to just one in a sense that one becomes my work and the other one a hobby. As in, to become a painter who devotes most of their time to painting or a professional choreographer / dancer in the theater. Or a Sunday painter and a hobby-dancer, respectively. Perhaps this way of thinking comes from the fact that I have been accused of this "servicer of two gods" in my life. I got my higher education first in painting and then in dance and I've given my everything to both of them. Still a thought has been haunting me – either it is not enough, or I am not enough. Why?
Does this way of thinking come from ourselves or have we acquired these patterns of thinking from first our childhood and then from the teachers at school and later on from society? The paper from one school or another should give a person the courage to use the word "professional" with honor. Although I do remember how I was much more happy way before ever even knowing about schools or papers or grades my work got given.
I am grateful from the bottom of my heart to my mom and everyone else who have raised me through this given life, who guided and influenced me and who shared their knowledge with me. Thank you! And still, my two biggest teachers have been my two daughters Anna-Kalli and Õnne-Pai, who forced me to look inside myself to find this Creator without limits inside of me. Thanks to that I still work on myself and create by dancing and painting, and share my experiences with love.
Kalli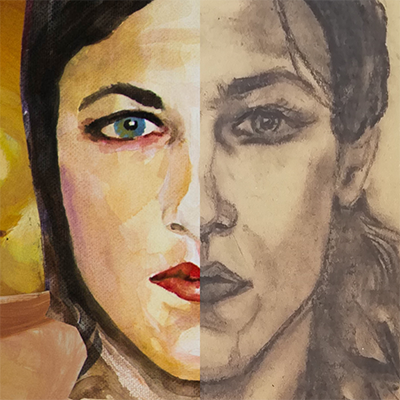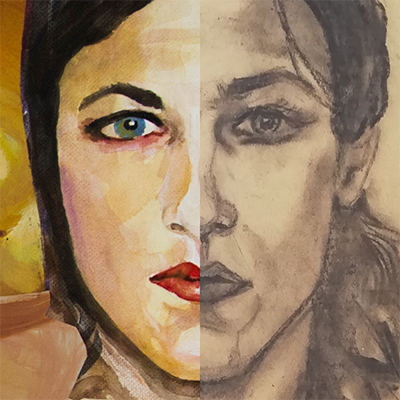 Curriculum Vitae
EDUCATION:
2011 Additional course at Christina Heeren's Flamenco Art School (Spain)
2008-2012 UT's Viljandi Culture Academy, dance art speciality
2001- 2005 Tartu Higher Art School
2002-2004 Vanemuine's Dance and Ballet School
1997-2002 IDA Dance School
1997-2001 Tartu Artgymnasium
1995-1997 Competitive dance club Teemant
1990-1995 Competitive dance club Faatum
1990-1997 Võhma Gymnasium
DANCE TEACHERS:
Flamenco: Maria Keck, Natalia Meriño, Tamara Lucio, Milagros Mengibar, Asuncion Perez (Choni), Maribel Ramoz, Pepa Sanchez, Andrej Vujicic, Francesca Grima (La Chica), Rosanna Maya, Sandra Barrio Bustillo, Estefania Cuevas Cobos, Ana Maria Carcia Perez, Rafael Chencho, Nene Montoya, Iris Frolof, Pille Roosi, Marianna Verdecia, Kaari Martin, Anna Blanca, Anne Mäses/Anderson, Annika Nõmberg, Georg Kodusaar, Maria Rääk, Tiina Pikas
Ballet: Mai Murdmaa, Viastrus Jansons, Janek Savolainen, Mateo Moles, Rasid Tika, Mare Tomingas, Rufina Noor, Jelena Karpova, Jelena Poznjak-Kõlar, Katre Unt-Liidmets, Oleg Titov, Svetlana Unt, Anu Ruusma, Elita Erkina, Tamara Kõrreveski, Alla and Tiit Lilleorg
Competitive dance: Janek Randla, Tamara and Juri Losman, Heret Pirn, etc.
Variety- and Estonian folkdance: Vaike Rajaste, Tiina Pikas, Jaana Tiitus
DANCE PRODUCTIONS:
2019 Production "Oranž"
2019 Osalemine 24. Rahvusvahelisel Baltimaade balleti festivalil "Balleti Tähtede Gala" tantsunumbriga "Percusion en tablas", Läti Rahvusooperis
2019 Flamenkosolist iseenda loodud koreograafiaga "Percusion en tablas" galadel "Vanemuise ballett 80!"
2019 Flamencoquintet Castaño concert tour "Abanico"
2018 Production"Sinine"
2016 Producion"Kollane"
2016 Flamencoquartet Castaño concert tour
2015 Flamenco production "Jorge läheb koju"
2013 Production "Roheline"
2012 Producion "Punane" (UT's VIljandi Culture Academy, final thesis of choreographer speciality)
2011 Dance on video "Must"
2011 Production "Valge" (UT's VIljandi Culture Academy, 3rd year miniproduction)
2010 Production "Roosa"
ACTIVITY AS A DANCER:
2016-presentFlamencoquartet "Castaño" dancer
2000-presentFlamencostudio Duende dancer
2000-presentFlamencostudio Duende's productions- "Tuli ja jää" , "Primavera", "Carmen", "Päev ja kogu elu" etc
2018 Taking part in the biggest flamenco festival in the Nordic countries, in Tampere.
2014-2016 Flamencosoloist at Vanemuine's opera "Carmen" with my own choreography.
2013 Solist at Vanemuine Theatre's national dance day balletgala "Kummardus Tšaikovslike" with my own choreography on Tchaikovsky's "April".
2012 Solist at Vanemuine Theatre's national dance day balletgala.
2010-2011 Improvisational stage production "La petite väike Caravan 2" directed by Claire Filmon (France), performed in France and Estonia
2008-2012 UT's VIljandi Culture Academy – "Roosa", "Heidetus", "G – korvpall", "Järgmine peatus", "Ime seda", "Kall(i)ina", "Valge", "Evelin Roe", "armuri jäänuk", "Punane" etc.
2002-2004 Vanemuine Theatre – "Chopiniana", "Quiteria pulm", "Tuli-punane lilleke", " Armastuse Tango", "Outbond", "This is a small step for a man…", "Alice imedemaal", "Sirene`s"
1997-2001 IDA Dance School- "Kuupaiste sonaat", "Kratid", "Anna-Liisa Ball", "Mäng "Baba- Yaga"", "Cendrillon(Tuhkatriinuke)", "Arabesk"
OTHER DANCE ACTIVITY:
2013-2019 Creative dance teacher at Räpina Gymnasium
2006-2019 Participation with the dancers of Räpina Flamenco Society in the performances of the studio Duende "Primavera", Coro "Santa Maria Ole!" ferias, Elva Exotic Dance Festivals and etc.
2006- present Flamenco studio Duende flamenco teacher and organizer of summer camps
2005-2019 Artistic director of the Räpina Flamenco Society
2016 Creative dance teacher at Räpina kindergarten "Vikerkaar"
2015 One of the organisers of Räpina Flamenco Society's 10th anniversary concert
2010 Organiser of Räpina Flamenco Society 5th anniversary concert
2009-2016 Teacher of the Viljandi flamenco group
2007-2008 Tartu Catholic School dance teacher
ARTISTIC ACTIVITY:
2005-present freelance artist
2018 Personal exhibition at Vanemuine Theatre's bigger house
2012 Personal exhibitions at Tartu Sadamateater and UT's Viljandi Culture Academy
2007 Nationwide exhibition "Eesti märss"
2007 Painting exhibition at Räpina Tuletõrjemaja
2002 Student exhibiton at Vanemuine Theatre
2002 Nationwide exhibition "Ei ole üksi ükski maa" in Tallinn
2002 Personal exhibition at Rannu Rahvamaja
2002 Exhibition"Oskus on enam kui rikkus" at Estonian National Museum
2001 Exhibition of summer paintings at Võru Culture House "Kannel"
2000 Exhibition "Ema ja tütre fantaasiamängud" at Raekoja plats 9
2000 Nationwide exhibition "Hääled ja viisid" at Kullo gallery
1999 Mother's Day exhibition at Vanemuine Concert Hall
1999 Exhibition by European youth at Vanemuine Concert Hall
1999 Student exhibition at E-Kaubamaja
1998-2000 Citywide students' fashionshow "Moeke", main prizes three years in a row.
2000-today Artistic work for "Päev ja kogu elu", stage designs for productions "Tuli ja jää" , "Noche Flamenca", concert series"Primavera"
RECOGNITION:
2017 A dance art nominee for Estonian Theatre Year
2009 A reward trip for Duende's dance duo from the organisers of "Buen Viaje"
2008 Duende dance duo "GRAND PRIX" from the international children and youth festival "Buen Viaje" from Spain (Loret de Mar 2008)
2007 Winner of the Silver Badge in the cultural field of the recognition event of the "Märka ja tunnusta" of the city and rural municipality of Räpina.
2006 Nominee of the recognition event "Märka ja tunnusta" of Räpina city and rural municipality of the year
-diplomas from city-wide and national exhibitions
-certificates from the costume exhibitions of the Estonian National Museum and the South-Estonian Tourism Foundation